Pebbles: Sizes:
0,5 – 1 mm;
 1 – 2 mm and 2 – 4 mm
Resin : RE 16 + Catalyst (for primer).
1 kg RE43W Resin + 12,50 kg pebbles / m2. RE16 Primer 300 g / m2
Top Coat (OPTIONAL): ER43W + catalyst cat 43 + 5% xylene or 99% pure acetone. (200g / m2 for one coat.
This top coat should be applied in very light layers. The working time of this resin with 2% catalyst is about 20 minutes, therefore the roller must be kept wet with new resin, to prevent it from going hard. If it goes hard, and new roller must be used.
More than one coat can be applied to seal the surface. Avoid flooding the pebbles with resin, in order to obtain a natural look..
For extra gloss, RE9M Acrylic Stone Varnish RE9M, can be applied in thin coats, with a roller. RE9M does not use a catalyst, therefore the working time is not affected. However, it must be applied in very thin coats, otherwise it will not set.
Applicator Liquid
All other resins, epoxies and adhesive products for all applications, hobbies and industries, please visit www.technoresin.co.za
Examples: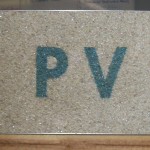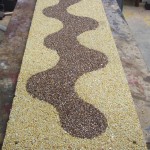 Examples of  pebbles and resins used for mosaic and art.